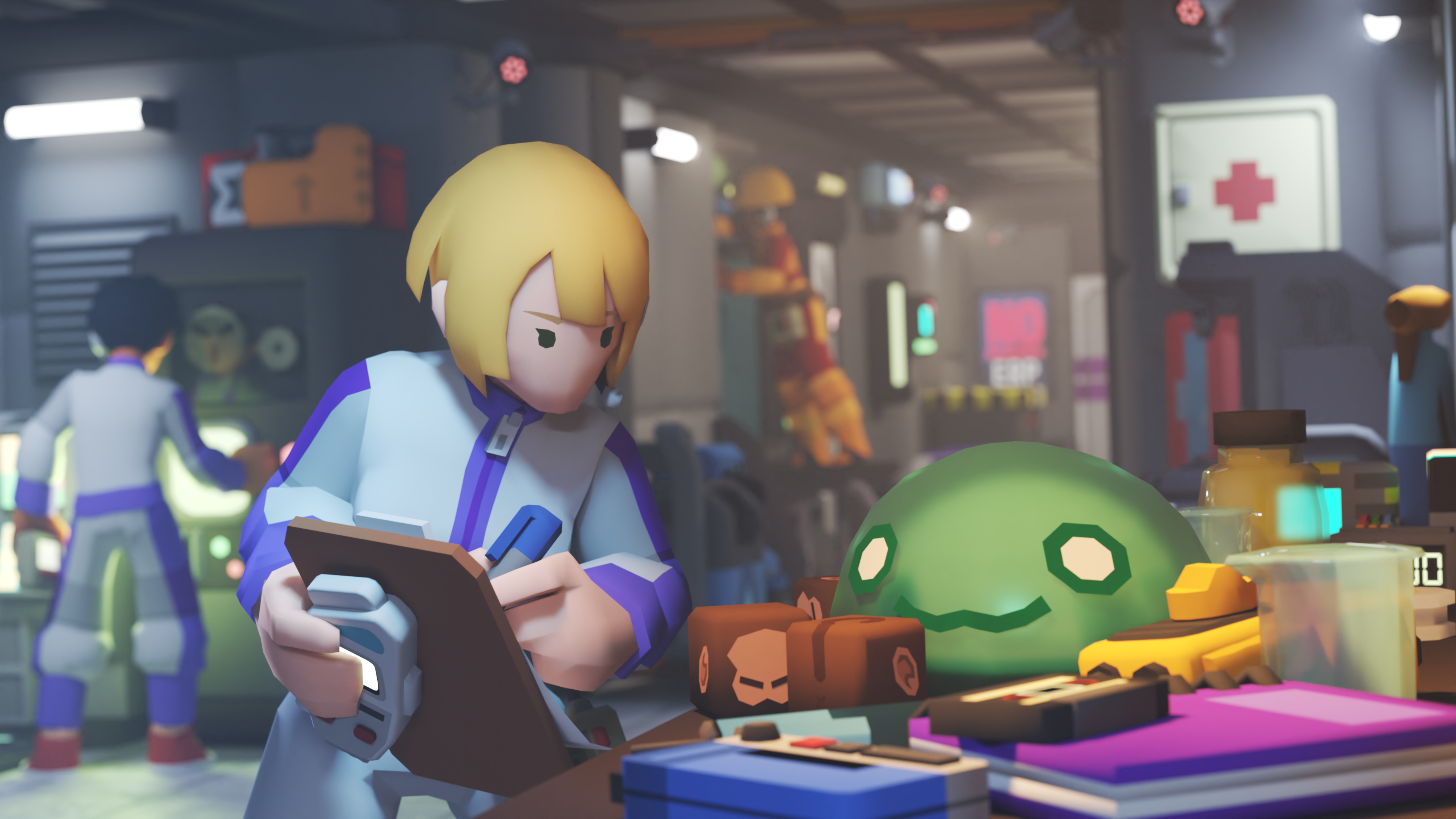 Image credit: ProbablyNot
23.04-06: 2023 2nd Quarter Devblog
Wednesday, July 5, 2023
Written by: CosmicCoincidence
SS3D 0.0.6.4
"We will follow the science no matter where it leads, even to death or destruction."
– RD
Q2 Recap
This past quarter has been a slow one, but we are still working hard!
A few months ago we started the slow process of reviewing and moving game assets from our GoogleDrive to our new GitHub art repo, the process is slow going but we've made decent progress over the last few months. It's a good time to work on this because a lot of our assets haven't been examined by anyone in a long time and it's advantageous to have them reviewed now while they are not needed in-game yet. Eventually we plan to embed the art repo into the game repo so that the assets do not need to be updated at multiple locations.
Details
LightVelox
Applied humble object pattern on items.
iamteapot
Added lights to lockers based on lock status.
Changed the IngameDebugConsole location.
Fixed stored items being rendered.
Added camera rotation with mouse drag.
Reworked inconsistent icon rendering in the tilemap editor.
mchlopecki (new contributor)
Fixed skybox connections.
CiciSpace (new contributor)
Normalized movement speed.
Ryan
Added summarized test results with CI.
Automated self-assigning issues.
Automated opening project boards based on milestones.
Automated adding issues/prs to project boards and moving PRs to certain columns.
Fixed stamina bar display on the host.
Resolved warnings caused by hiding inherited members.
Added more tests for the containers system.
CosmicCoincidence
Updated startup logo.
Updated the human, hair, organs, and clothing models.
Added some basic items & furniture from the old branch.
Moved many assets from GoogleDrive to GitHub.
xk0fe
Added collider checks for child objects.
Renamed code, prefabs, objects, and inputs.
Changed object display names in the log.
Nath
Fixed duplicate player key bug.
Applied humble object pattern on substance containers.
John
Reworked how network settings are loaded.
Fixed overrides in the Engiborg prefab?
Assets
Kruzn returned with a couple more models for us, a modular stone altar for the chapel, and two variations on the status display monitor.
Art
ProbablyNot purpose in life is making these fabulous wallpapers for us!
And SmokingMan enjoys doing some chaotic/comedic scenes for us too!
Footnotes
If you want to contribute or take part in community discussions, join us in our Discord server.